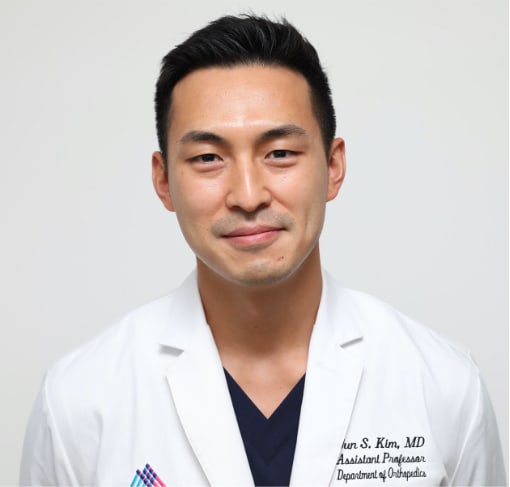 Meet Dr. Jun S. Kim
Leader in Spine Research: Artificial Intelligence & Machine Learning in Orthopaedics
Dr. Jun S. Kim, a leading spine surgeon in Manhattan, believes that modern spine care should be comprehensive and multidisciplinary. He believes that this comes from a team approach comprised of physiatrists, physical therapists, anesthesiologists, neurologists, radiologists, internists, and pediatricians. Secondly, he believes it is imperative that all non-surgical avenues be explored and trialed before surgery is considered. Lastly, if and when spine surgery becomes necessary, Dr. Kim believes the surgery should be personalized and tailored to the individual patient.
Learn More
Personalized, State-of-the-Art Spine Care
Adult and Pediatric Scoliosis

Surgical treatment for advanced scoliosis can be performed for children, adolescents, and adults experiencing a measurable side-to-side curvature of the spine.

Cervical Disc Replacement

Damaged cervical discs can be removed and replaced with state-of-the-art artificial disc prosthetics designed to restore comfort and mobility.

Anterior Cervical Fusion

Cervical vertebrae can be fused together following removal of a damaged disc to alleviate pressure on the nerves and/or spinal cord.
What Our Patients Say
Dr. Kim's patients share their experiences and highlight the outstanding care they've received:
Dr. Kim is one of the greatest Spinal Surgeons that I've had the pleasure of meeting. My father arrived from Puerto Rico looking for medical care for an unknown pain on his shoulder that turned out to be related to his spine. From the moment Dr. Kim took my father's case, he made certain that we understood everything related to his care. The whole process from the initial visit to his surgery took about one month. Now my father is three months post-op and doing better than ever. Thanks Dr. Kim for your compassion and professional care.
Our Latest Blog Posts
The Dish on DISH: Diffuse Idiopathic Skeletal Hyperostosis

DISH is usually asymptomatic [without symptoms] or very mildly symptomatic…until it's not," When I do see patients, it's typically at [...]

Continue Reading

Using Artificial Intelligence Algorithms to Detect Vertebral Fractures

When I was a resident in training, I took an online course in machine learning as a means of pursuing [...]

Continue Reading

Mount Sinai West Spine Center Set to Open in 2024

"My practice focuses on adult and pediatric scoliosis, revision spine surgery, as well as degenerative and arthritic conditions of the [...]

Continue Reading