About Us
Dr. Kim is a board-certified, fellowship-trained spine surgeon in Manhattan who has presented nationally and internationally on spinal deformity surgery, cervical spine surgery, cervical disc replacements, and lumbar spine surgery. Because he trained with both orthopaedic and neurosurgical spine surgeons, he has an interdisciplinary approach to spine care. Modern spine care should be comprehensive and multidisciplinary. A successful outcome involves a team approach that comprises physiatrists, physical therapists, anesthesiologists, neurologists, internists, endocrinologists, radiologists, rheumatologists, pulmonologists, and pediatricians. He believes that all non-surgical avenues should be explored and trialed before surgery. Lastly, if and when surgery is necessary, Dr. Kim's goal is to customize the spine surgery for the patient utilizing modern and minimally invasive techniques.
Meet Dr. Kim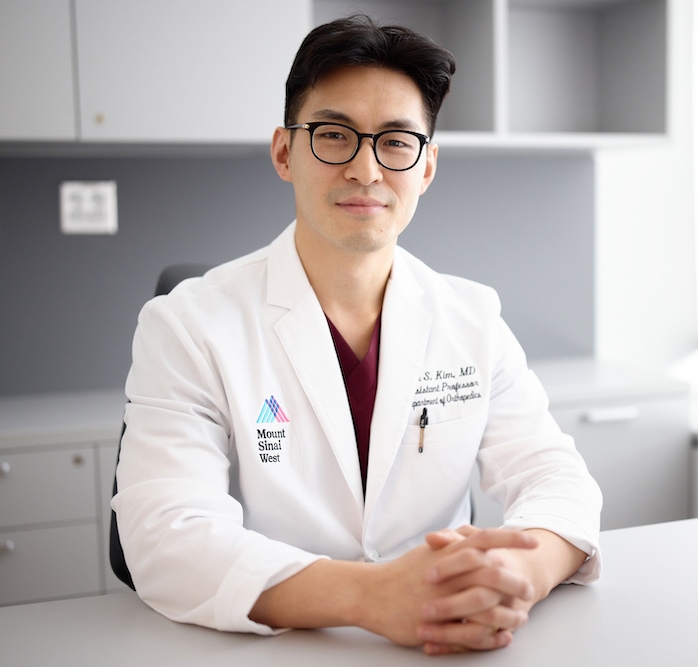 Dr. Jun S. Kim is a board-certified, fellowship-trained spine surgeon at The Mount Sinai Hospital and an Assistant Professor in the Department of Orthopedic Surgery and Neurosurgery. Dr. Kim specializes in cervical spine and scoliosis surgery, using a combination of minimally invasive, open, and microsurgical techniques to treat disorders of the cervical, thoracic, and lumbar spine.
Dr. Kim attended Cornell University and graduated with a Bachelor of Science in Chemical and Biomolecular Engineering. He received his MD from the Lewis Katz School of Medicine at Temple University, and completed orthopaedic surgery residency at Mount Sinai Medical Center. After his residency at Mount Sinai, Dr. Kim completed a spine fellowship in adult and pediatric scoliosis and deformity surgery at Columbia University Medical Center where he served as an assistant attending physician and a clinical instructor.
Dr. Kim has trained with both orthopaedic spine surgeons and neurosurgical spine surgeons. During the course of these years, he has had experience successfully treating advanced scoliosis and deformities of the spine in adult and pediatric patients.
Dr. Kim is also the head of the Orthopaedic Surgery Department's Artificial Intelligence (AI) and Machine Learning (ML) laboratory and a member of the Mount Sinai AI Consortium. He has published numerous peer-reviewed articles utilizing deep learning for diagnostics, prognostication, and risk stratification. He is currently one of the first orthopaedic surgeons to employ and publish on machine learning techniques to study, analyze, and improve the way surgeons practice medicine. He has won numerous grants in the space of AI, and he was nominated by the Scoliosis Research Society for the prestigious Russell A. Hibbs Clinical Research Award.
Dr. Kim grew up in Silver Spring, Maryland, and he is the oldest of three brothers to Korean immigrants. He grew up playing soccer and competed nationally in Martial Arts on the NASKA (North American Sport Karate Association) circuit. On a personal note, he is an avid CrossFitter, board game and fantasy novel enthusiast, fly fisherman, and snowboarder. He also enjoys watching Premier League football.
The Spine Team
Our Spine Team is composed of Dr. Amir Mahajer, Dr. Jun S. Kim, Dr. Samuel K. Cho, and Dr. Jeremy Steinberger.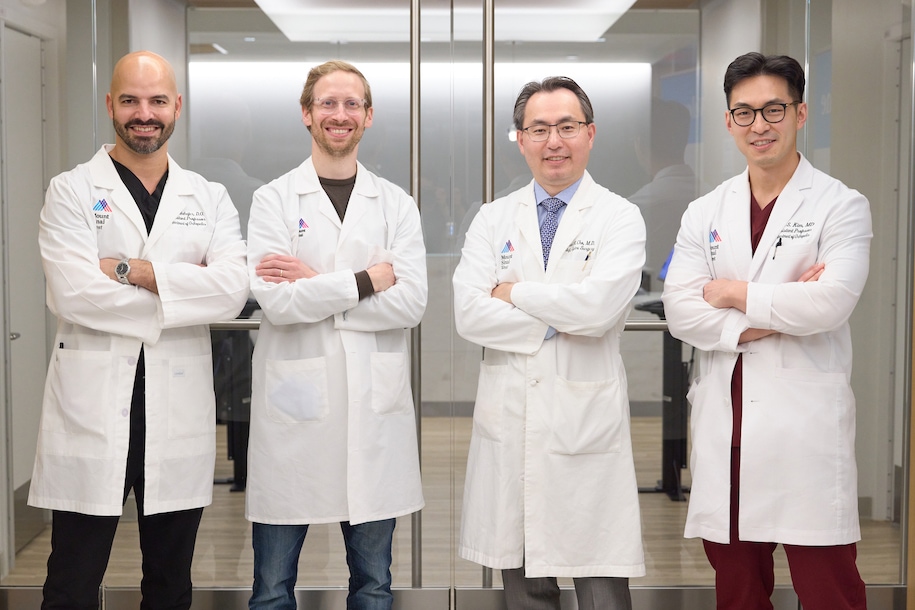 Modern spine care is multidisciplinary. At The Orthopaedic Center at Mount Sinai West, we have orthopaedic and neurosurgical spine surgeons, physiatrists, neurologists, rheumatologists, internists, endocrinologists, pulmonologists, radiologists, and pain management physicians on-site.
Affiliated Physicians
Dr. Samuel K. Cho – Spine Surgery
Dr. Jeremy Steinberger – Spine Surgery
Dr. Amir Mahajer – Spine Physiatry Physical Medicine and Rehabilitation
Mount Sinai West Spine Center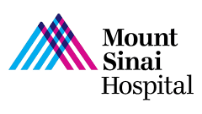 Back or neck pain can be debilitating, and affect many aspects of your daily life. Mount Sinai West spine experts have vast experience treating the full spectrum of conditions affecting the spine, ranging from your lower back (lumbar spine) to your neck (cervical spine). Many spine conditions can be treated non-surgically, but when surgery is the best option to treat your condition—we emphasize minimally invasive spine procedures whenever possible. We also regularly perform complex reconstructions to treat severe spinal deformities and scoliosis.
For non-surgical spine care, we offer an interventional spine physiatrist with expertise in pain management, sports medicine and osteopathic manipulative medicine.
Mount Sinai West also offers pediatric spine care including the treatment of scoliosis.
Because modern spine care is multidisciplinary, our team meets on a weekly basis to discuss complex spinal cases. It offers a platform to discuss an optimal and customized treatment plan for each and every surgical patient.
If you need spine surgery, you can choose Mount Sinai West with confidence.