Disc Replacement
Cervical disc replacement involves removing a damaged disc and replacing it with a prosthesis to eliminate pressure on the nerves and spinal cord. Replacing the disc can alleviate pain and numbness in your shoulders and arms while maintaining the motion of your neck.
Cervical Disc Replacement
Candidates for Cervical Disc Replacement
Disc replacement is only intended for people who have stopped growing (skeletally mature patients). The best candidates for this procedure are usually individuals who are younger than 45 that have minimal to no arthritis, little to no disc height loss, no arthritis of the facet joint, no bone forming diseases, no inflammatory arthritis (e.g., rheumatoid, lupus, etc.), no infection, and a stable spine.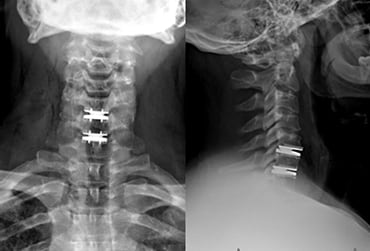 Cervical Disc Replacement Procedure
During cervical disc replacement, a horizontal incision will be made on the front of your neck. The length of the incision depends on how many levels of the cervical spine will be corrected. Through this incision, the implanted device is placed between two adjacent cervical vertebrae to replace a diseased cervical disc. Once in position, the replacement is designed to maintain the distance between two adjacent cervical vertebrae while allowing for a range of motion, including bending and rotation.
If you have had neck surgery in the past using an anterior (front) approach, you may need to meet with an ENT (a doctor who cares for the ear, nose, and throat) to evaluate the laryngeal nerves (vocal cords). This evaluation allows Dr. Kim to be informed as to how your vocal cords are functioning, thus allowing him to determine where the incision should be placed.