Spinal Surgeon in Manhattan
Meet Dr. Jun S. Kim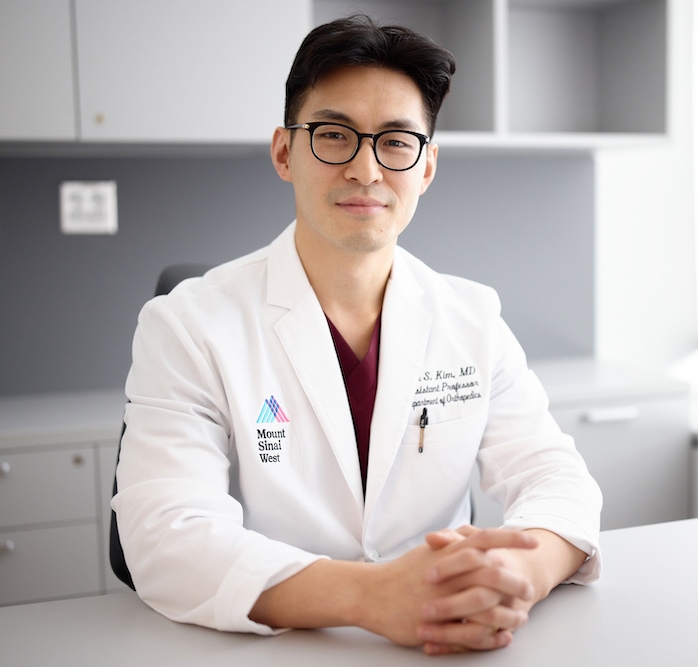 Dr. Jun S. Kim is a board certified, fellowship-trained spine surgeon at The Mount Sinai Hospital and an Assistant Professor in the Department of Orthopedic Surgery. Dr. Kim specializes in cervical spine and scoliosis surgery, using a combination of minimally invasive, open, and microsurgical techniques to treat disorders of the cervical, thoracic, and lumbar spine. Dr. Kim has completed extensive training with both orthopaedic spine surgeons and neurosurgical spine surgeons to develop his knowledge and skills. During the course of his career, he has had experience successfully treating advanced scoliosis and deformities of the spine in adult and pediatric patients.
Education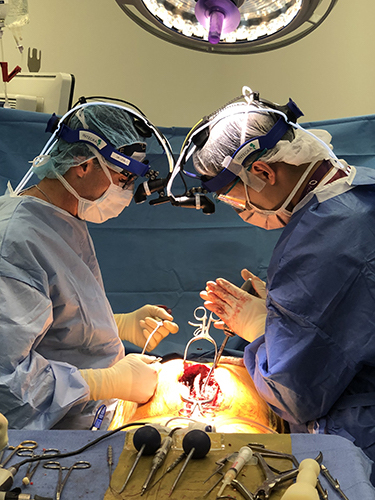 Dr. Kim attended Cornell University and graduated with a Bachelor of Science in Chemical and Biomolecular Engineering. He received his medical degree (MD) from the Lewis Katz School of Medicine at Temple University, and completed his orthopaedic surgery residency at Mount Sinai Medical Center. After his residency at Mount Sinai, Dr. Kim completed a spine fellowship in adult and pediatric scoliosis and deformity surgery at Columbia University Medical Center, where he served as an assistant attending physician and a clinical instructor.
Approach to Modern Spinal Care
Dr. Kim's approach to modern spine care is comprehensive, personalized, and multidisciplinary. He utilizes a team approach to care which incorporates the expertise of medical specialists to deliver the highest-quality of treatment. He includes the valuable services of physiatrists, physical therapists, anesthesiologists, neurologists, radiologists, internists, and pediatricians in developing comprehensive treatment plans that yield high rates of success. Dr. Kim also believes it is imperative that all non-surgical avenues be explored and tested before surgical treatments are considered. If spine surgery becomes necessary, Dr. Kim believes the surgery and rehabilitation plan should be personalized and tailored to the specific needs of each patient.
Languages
Dr. Kim speaks English, Korean, and Spanish.
Honors & Awards
Alpha Omega Alpha (Member of AOA)
Gold Humanism Honor Society
2006-2010 Dean's List Cornell University Engineering (2006-2010)
2010-2014 Class of 1973 Scholarship
2010-2014 Gonzalez-Jimenez Scholarship
2014 Raymond J. Harris-Christian Medical Student Scholarship
2015 Dr. Robert Siffert Award for Academic Achievement
2016 Dr. Robert Siffert Award for Academic Achievement
2017 Dr. Robert Siffert Award for Academic Achievement
2017 Young Investigator Grant (NIH KL2)/Mount Sinai 4D Grant
2018 Dr. Robert Siffert Award for Academic Achievement
2018 Mount Sinai Spine Award for Research Excellence
2018 4D Technology Development Program Award
2019 Dr. Robert Siffert Award for Academic Achievement
2019 4D Technology Development Program Award
2019 Young Investigator Grant (NIH KL2)/Mount Sinai 4D Grant
Russell A. Hibbs Award for Clinical Research (Nominated)
Leader in Spine Research & Artificial Intelligence
Dr. Kim is also the head of the Orthopaedic Surgery Department's Artificial Intelligence (AI) and Machine Learning (ML) laboratory and a member of the Mount Sinai AI Consortium. He has published numerous peer-reviewed articles utilizing deep learning for diagnostics, prognostication, and risk stratification. He is currently one of the first orthopaedic surgeons to employ and publish on machine learning techniques to study, analyze, and improve the way surgeons practice medicine. He has won numerous grants in the space of AI.
Research Highlights
Schwartz JT, Cho BH, Tang P, Schefflein J, Arvind V, Kim JS, Doshi AH, Cho SK. Deep Learning Automates Measurement of Spinopelvic Parameters on Lateral Lumbar Radiographs. Spine (Phila Pa 1976). 2020 Dec 1. doi: 10.1097/BRS.0000000000003830. Epub ahead of print. PMID: 33273436.
Valliani AA, Schwartz JT, Arvind V, Cho BH, Geng E, Chang M, Gao M, Oermann EK, Robinson J, Cho SK, Kim JS. Identifying Total Hip Replacement Prostheses Using a Mobile Application Powered by Machine Learning.
Kim JS, Arvind V, Schwartz JT, Valliani A, Geng E, Lee NJ, Lombardi JM, Vivas AC, Reidler JS, Zuckerman S, Cho B, Vulapalli M, Cho SK, Lehman RA, Lenke LG, Riew KD. Can Natural Language Processing and Artificial Intelligence Automate the Generation of Billing Codes From Operative Note Dictations?
Kaji DA, Zech JR, Kim JS, Cho SK, Dangayach NS, Costa AB, Oermann EK: An attention based deep learning model of clinical events in the intensive care unit. PLoS ONE 02/2019; 14(2):e0211057., DOI:10.1371/journal.pone.0211057
Cho BH, Kaji DA, Cheung ZB, Ye IB, Tang R, Ahn A, Carrillo O, Schwartz JT, Valliani AA, Oermann EK, Arvind V, Ranti D, Kim JS, Cho SK. Automated Measurement of Lumbar Lordosis on Radiographs Using Machine Learning and Computer Vision. Global Spine Journal 08/2019;, DOI:10.1177/2192568219868190
Titano JJ, Badgley M,  Schefflein J, Pain M, Su Andres, Cai M, Swinburne N,  Zech J, Kim JS, Bederson
J, Mocco J, Drayer B, Lehar J, Cho SK, Costa A, Oermann EK: Automated deep-neural-network surveillance of cranial images for acute neurologic events. Nature Medicine 08/2018; 24(9)., DOI:10.1038/s41591-018-0147-y
Arvind V, Kim JS, Oermann EK, Kaji D, Cho SK: Predicting Surgical Complications in Adult Patients Undergoing Anterior Cervical Discectomy and Fusion Using Machine Learning. 12/2018; 15(4)., DOI:10.14245/ns.1836248.124
Kim JS, Merrill RK, Arvind V, Kaji D, Pasik SD, Nwachukwu CC, Vargas L, Osman NS, Oermann EK, Caridi JM, Cho SK. Examining the Ability of Artificial Neural Networks Machine Learning Models to Accurately Predict Complications Following Posterior Lumbar Spine Fusion. Spine (Phila Pa 1976). 2018 Jun 15;43(12):853-860.
doi: 10.1097/BRS.0000000000002442.